NAPOLEON'S LAST HEADQUARTERS,
A MUSEUM FOR EVERYONE
In 2015, on the occasion of the celebration of the bicentenary of the Battle of Waterloo, the museum was renovated. The museum's scenography has been renewed and has been specially designed and built to accommodate a wide range of audiences in order to achieve a museum accessible to all.
A museum open to all raises the issue of public accessibility. How can this historic site be adapted to accommodate children, seniors, families, people with disabilities, but also specialized, traditional, individual or group visitors? This was deeply thought out prior to the renovation project. The chosen approach is the one that offers solutions adapted to the greatest number of users. Improving accessibility for people with disabilities ultimately means improving accessibility for everyone.
The scenography offers an uncluttered museum space: window displays (at an appropriate height and angle) or a simple surface to present collector's items and objects without covering. Essentially traditional devices: mechanical manipulation (buttons to press, objects to lift, turn, etc.), a sound system in the rooms, high quality visual environment, contrasting multilingual labels. This proposal is supplemented by audiovisual devices including a documentary on the evolution of the building, an audio guide (in 5 languages) which turns into a video guide in sign language and subtitled. The scenography is enriched by classic but less common devices: pieces to touch, Braille supports and the installation of ramps and tactile pads in the rooms.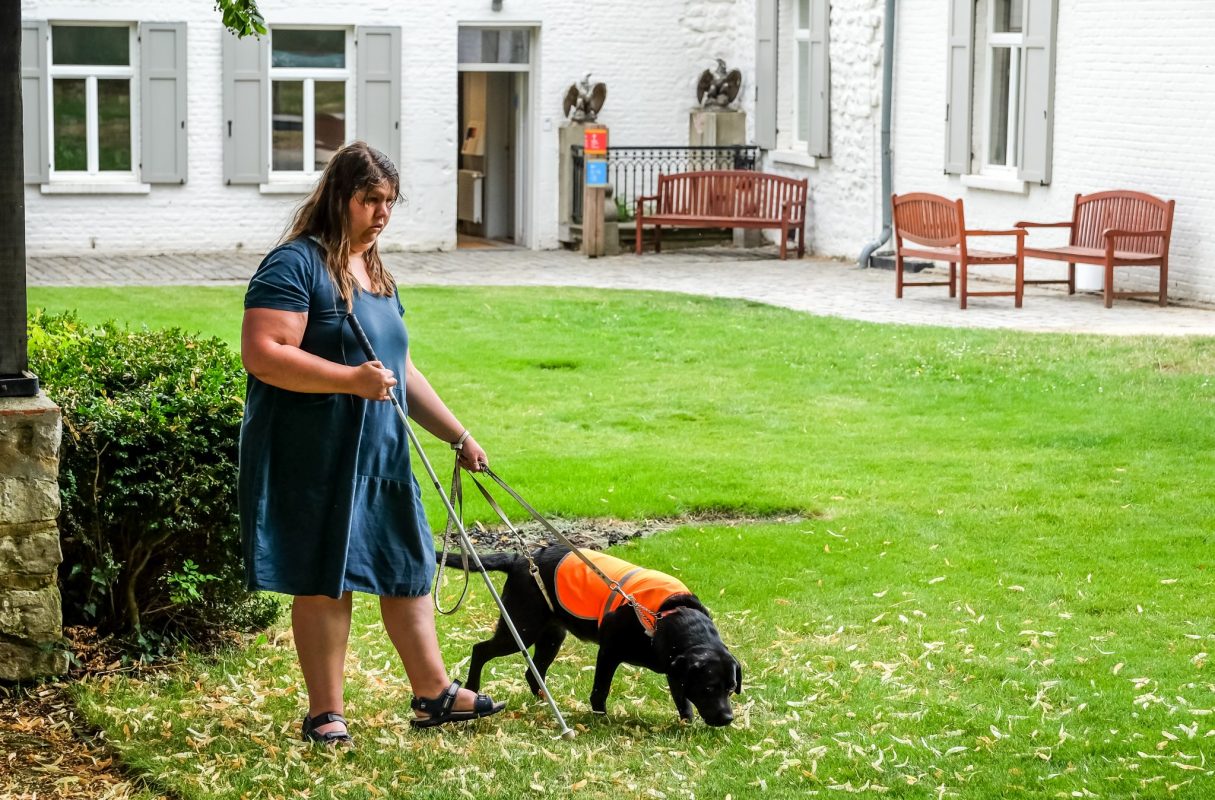 The concept of accessibility to Napoleon's Last HQ includes both the fittings (interior and exterior) and equipment of the museum, as well as its pricing. Various pricing trends are practiced within museums. At Napoleon's Last HQ, the entrance price is charged for the disabled person and the accompanying person enters at no charge. This choice reinforces the conviction of the institution that a disabled person is a full citizen.
The facilities, the tools to be developed for accessibility to the greatest number are a work-in-progress. In this perspective of constantly optimizing accessibility, the museum has recently adapted a toilet as well as the pavement that smoothly connects the car park to the entrance of the museum. In its facilities, Napoleon's Last HQ must always combine its desire to adapt to as many people as possible with its historical context, and we have been a listed historical monument since 1951.
In the year 2021, the museum started offering visually impaired people and their companions a themed visit that combines audio description, tactile support, several objects to touch and pick up. Guide dogs are of course welcome in the museum.